As someone who is independent of cOAlition S, I have been monitoring with great interest the application of the Rights Retention Strategy (RRS).
Using Google Scholar and Paperpile, I have documented over 500 works published across hundreds of different outlets using the Rights Retention Strategy language in the acknowledgements section of the work. Authors are using it to retain their rights in preprints, journal articles, conference papers, book chapters, and even posters – this makes perfect sense; the RRS language is simple and easy to add to research outputs. It's not a burden to acknowledge one's research funding and to add the statement: "For the purpose of open access, the author has applied a CC BY public copyright licence to any Author Accepted Manuscript version arising from this submission", and so authors are doing this.
I am also pleased to observe that ALL the major publishers appear to be happily publishing works containing the RRS language, including Elsevier, ACS, Taylor & Francis, Wiley, IEEE, and Springer Nature (inc. Nature Publication Group). So, authors need not fear practising rights retention.
I note that the RRS is a tool that can be and is used across all disciplines – it works equally well for STEM and HSS. Indeed one of my favourite examples of RRS-in-action is a Wellcome Trust funded output by Dr Barbara Zipser from the Department of History at Royal Holloway, University of London. Thanks to the RRS language Dr Zipser included in her submission, there is a full-text accepted author manuscript version of her work available at EuropePMC for all to read, whilst separately the journal-published version is available from the publisher website behind a 25 euro paywall. The author accepted manuscript has undergone peer review and has been accepted by the publisher (it is not a rough preprint, from before peer review). I do not need to read a version that has publisher branding & logos. When researchers choose the "green" route to open access, people need not feel sorry for the journal publisher – individual and institutional subscribers pay handsomely to support the journal. Thus, green open access is never "unfunded", as some publishers have tried to claim.
As a keen Wikimedian, I am delighted with another aspect of the RRS. Prior to the RRS, green OA copies of articles weren't much used on Wikimedia Commons owing to incompatible licensing. But now, with the RRS, suddenly, RRS-using green OA copies become easier to adapt for re-use on other websites. As Wikipedia is one of the top 15 most visited websites globally, I think it is very important that academic research is not prevented from being used there by overly restrictive licensing conditions. To celebrate this openness, I have added a few figure images sourced from cOAlition S funded, CC BY licensed, author accepted manuscripts using RRS to Wikimedia Commons. These images can be re-used within suitable Wikipedia articles across all languages, helping the transmission of research information beyond the constraints of academic journals and language barriers.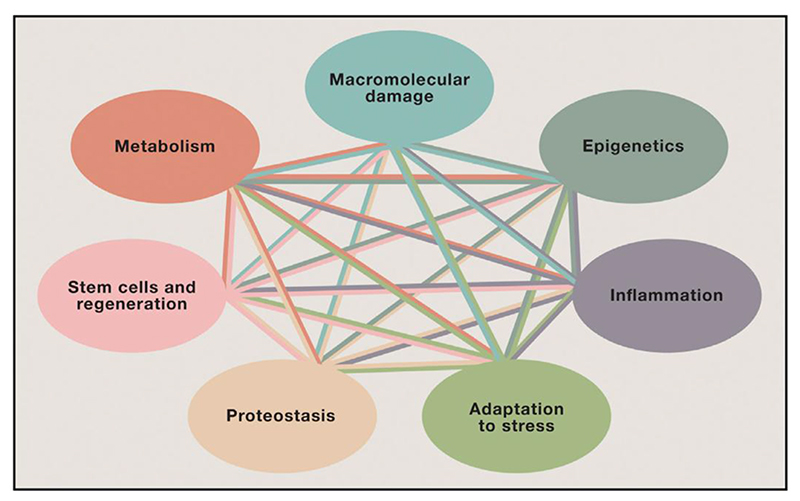 "The seven pillars of aging", as depicted in Wellcome Trust funded research, for which the authors accepted manuscript, inclusive of this image, is licensed for use by the authors under the terms of the Creative Commons Attribution Licence (CC BY). Image Credit: © David Gems & João Pedro de Magalhães from their article "The hoverfly and the wasp: A critique of the hallmarks of aging as a paradigm" as made available at EuropePMC.
I am particularly impressed with how the Irish institutional repository community has been adapting their workflows to accommodate and accurately present CC BY rights statements on deposits of author accepted manuscripts (AAMs) at Irish institutional repositories, often for Science Foundation Ireland funded research. To give one such example, I'll point to a deposit of an AAM at the University of College Cork (UCC) repository, where the rights statement is clearly and correctly given as CC BY. I note with interest also that this AAM has been made available online before the publisher version of record (VOR) has been made available. Why wait for the publisher? Let the AAM free!
♦ ♦ ♦
I look forward to helping Arcadia Fund grantees use the Rights Retention Strategy to help their work have maximum impact, unrestrained by publisher-imposed artificial scarcity, from 2022 onwards when we align our open access policy with Plan S.
Many publishers rightly appear keen to proclaim publicly the many benefits of open access (OA), to state how eager they are to support openness, and to publicise their OA offerings to researchers to help make their articles open for greater access, visibility and readership (e.g. Wiley, T&F, and SN). They generally acknowledge that maximising sharing, availability, visibility, and barrier-free access are good for research. 
As part of its 'sharing' provision, Elsevier offers its published authors Share Links. It would appear, though, that the rhetoric surrounding these links does not match Elsevier's own restrictions and dire warnings of the risks of sharing. (Readers may be interested that a similar problem of another major publisher's permissions around sharing not matching rhetoric was described in the blog We encourage you to share your article widely – but not too much).
Share Links are customised links created for articles, available from the final publication stage, and in 'the majority of Elsevier journals'. They provide 50 days' payment-free, sign-in-free, access to read and download the article – after that, the article has a paywall barrier (temporary free access – a topic for another day). The Share Link points to a 'Published Journal Article' (PJA) (Elsevier's term, synonymous with publisher's 'Version of Record' (published PDF)). Share Links are used for articles published in subscription journals where the article is locked behind a paywall barrier for non-subscribers. Anyone with the link can freely access and download the full text of the article. It would appear that many authors are Tweeting their 50-day 'free' access links.
The Elsevier Share Link information proudly states (my emphasis):
"By sharing your article, you can make a bigger impact with your new publication. Now that your article is published, you can use your Share Link to share your research with friends, family, colleagues, and your wider network. There are many benefits to doing so."
Sharing the link via social media accounts and email helps you generate interest in your article.

Sharing your article makes it more visible, potentially increasing downloads and citations.
It continues:
"Share links can be shared with anyone through any communications channel potentially bringing your article to an audience of millions."
The Share Link web page trumpets the impact of the links, including the most popular link of 2017, where the paper has been viewed over 20,000 times.
Let me set aside, for now, the confusion for users caused by temporary free access (open – but only for a limited period) and the lack of information about the open/closed status of the paper in one example I looked at. I will focus on some discrepancies between what is advertised for Share Links and what is stated in Elsevier's permissions and policies for authors.
Conundrum 1: Sharing is allowed with anyone / Sharing is restricted
Authors are encouraged to share the special Share Link "with anyone through any communications channel", and told that it will help make a "bigger impact" – more visible, possibly increasing downloads, citations and so on. Yet, on reading the publisher's information about article sharing, a very different view unfolds.
According to Elsevier's article sharing policy regarding the Published Journal Article (i.e. the one available via the Share Link), authors are allowed to:
But:
All of a sudden, there is no longer any mention of the permission to share it anywhere with anyone that the author was proudly told about their Share Link. No sign of the potential "audience of millions".
At this point, I got sucked into a seemingly endless vortex of linked policy and sharing pages, despite Elsevier's statement that "we are committed to making it simple and seamless for researchers to share their research on platforms of their choice". I challenge any author to read all the information provided to them about Elsevier's open access and sharing instructions.
Strangely Share Links (nor Springer Nature's similar SharedIt links) are not mentioned on the publisher-provided "How can I share it?" website, which is supposed to make things easy (I personally beg to disagree with some of the principles that underpin this site). Using this website to check permissions for the publisher's version of an article that is freely available via Share Link indicates the same article can only be shared via "Mendeley – group collaboration (private)". Although, "additional full-text sharing options may exist – please check this directly with publisher Elsevier", the link provided points to the Elsevier Sharing Policy page (see above), which, in direct contradiction to what Elsevier told the author about their Share Link, clearly states that the sharing permissions for this version are severely restricted.
Conundrum 2: Authors can/can't share via academic networks
Authors are explicitly told in the Share Link blurb that using the link, their article "can be shared with anyone through any communications channel", including on academic networking sites (sometimes called academic social networking sites or scholarly collaboration networks) and which are commonly understood to include Academia.edu or ResearchGate. 
"You can post the Share Link on your personal website and academic networking sites"
And
"Share links can be shared with anyone through any communications channel potentially bringing your article to an audience of millions".
Excellent. But if they read the Elsevier sharing information for authors, they are told:
"The Published Journal Article cannot be shared publicly, for example on ResearchGate or Academia.edu, to ensure the sustainability of peer-reviewed research in journal publications".
According to this, if they do share via academic networks, they are jeopardising "the sustainability of peer-reviewed research journal publications". But they've just been told they can share access to the article using such networks….and it's the publisher's version PDF Elsevier is encouraging people to access using Share Links.
Conundrum 3: The article must / doesn't have an embargo
Elsevier trumpets to their authors that the early and widespread sharing of their "newly-published article" has many benefits. To this end, the publisher encourages their authors to share the publisher's full text version using the Share Link provided. Let me state this in simple terms: Elsevier is encouraging its authors to maximise immediate and barrier-free access, by anyone, via any communication channel, to the publisher's version of record (Published Journal Article) of a published article.
However, should the author read the information for authors for the example I used, and the Elsevier self-archiving embargo policy for other Elsevier journals (via their Journal Embargo Finder), they are given clear instructions to the contrary:
"For subscription articles, an appropriate amount of time is needed for journals to deliver value to subscribing customers before a manuscript becomes available for free to the public. This is called an embargo period and it begins from the date the article is formally published online in its final and fully citable form. Find out more This journal has an embargo period of 12 months". [Journal of Allergy and Clinical Immunology]
Now, the Share Link points to the publisher's PDF, but the principle is surely the same for both Author's Accepted Manuscript (AAM) and publisher's version – either Elsevier believes an embargo period is needed to ensure value for subscribers, or it is not.
Similarly paradoxical information is provided in Elsevier's instructions for sharing AAMs online which states:
"Authors can share their accepted manuscript: Immediately…via their non-commercial personal homepage or blog"……..but not "via non-commercial hosting platforms such as their institutional repository". 
Yes, astonishingly, this means an embargo is required for one freely available website but not another. This is completely absurd.
Clarity please: either Elsevier believes an embargo period is needed to ensure value for subscribers or not.
Is the cat alive or dead?
The contortions that this publisher is going through to promote immediate free access and prevent it – at the same time – is quite extraordinary. It is the Schrödinger's Cat of open access. Immediate free access to the article is simultaneously:
allowed AND restricted
beneficial AND harmful
can be shared with "an audience of millions" AND must not be shared beyond a strictly limited group
does NOT harm the sustainability of the journal AND harms sustainability of the journal
affects the value to subscribing customers AND does NOT affect the value to subscribing customers
Trying to have it both ways, both restricted AND widely and immediately open, is just bewildering. The cynic might wonder if Share Links are offered in order to increase impact and early citation with the aim of boosting the impact factor of Elsevier journals. Once achieved, free access can be cut off, and a paywall erected – job done. Some might say that this amounts to providing limited open access for economic and marketing reasons rather than to promote the dissemination of research.
All these shenanigans only serve to pile on confusion. This is why the cOAlition S stance is clear and straightforward – authors should be able to own and use their own content freely as they choose for all the benefits extolled by Elsevier (and other publishers). See Plan S Rights Retention Strategy. Many researchers agree with this premise (see here and here). Authors – don't stand for this double-speak. Your work, your rights: Use them; don't lose them!
Has anyone else noticed the conflict of advice that exists in the Springer Nature (SN) SharedIt initiative? On the face of it, it appears a good thing – actively encouraging authors to share their research – until you get into the weeds of what is permitted and required. [Added emphasis in quotations are all mine]
SN states that it 
"wants researchers to share content easily"
and that it wishes 
"to enable researchers to share articles of interest with collaborators and colleagues. We also wish to enable authors to share their research articles widely" 
and proudly trumpets that using its SharedIt initiative 
"links to view-only, full-text subscription research articles can be posted anywhere – including on social media platforms, author websites and in institutional repositories – so researchers can share research with colleagues and general audiences." 
For now, let's skate over the fact that this initiative is 'read only'. As a SN author at this point, you might think – great. Unfortunately, it is not that simple.
Those pesky Terms & Conditions
You have been sent the SharedIt link to your article and are excited because you're told that you:
"Can post shareable links to view-only versions of [your] peer-reviewed research paper anywhere, including via social channels, institutional repositories and authors' own websites as well as scholarly collaborative networks."
It says 'anywhere.' Excellent. Then you read the SharedIt Terms & Conditions (Ts & Cs). 
"We support a reasonable amount of sharing of content by authors, subscribers and authorised users ("Users"), for small-scale personal, non-commercial use provided that you maintain all copyright and other proprietary notices.
This is quite a difference: only a "reasonable amount of sharing" is supported. That is a long way from "anywhere". It certainly doesn't sound like the "wish to enable authors to share their research articles widely" SN started out with. 'Small-scale' is even more limiting. I would have expected researchers might want 'mega-scale', worldwide interest in and access to their hard-won work.
Sharing for subscribers too
Not only can authors distribute links to their papers, but subscribers to the journal can obtain SharedIt links for articles to which they have access, and which they can disseminate. This includes anyone at a university eligible to use a university subscription to the journal, which may be many thousands of individuals at a single institution, to distribute the link.
"SharedIt allows you to share research articles you or your institution have subscribed to in a legitimate way, facilitating discussions and collaborations with other researchers who may not have a subscription."
The instructions state that: "Reasonable sharing is encouraged for non-commercial, personal use" and that subscribers can "share links to free-to-read versions of research articles anywhere." That term again – 'reasonable.'
More Ts & Cs
As a distributor of the link, you automatically agree to the Ts & Cs ("By using the unique SharedIt URL ("shareable link"), you agree to these terms of use ("Terms")"). But it continues:
"By sharing, or receiving our content from a shared source, Users agree to be bound by these SharedIt Terms of Use."
'Or receiving.' Perhaps I'm misunderstanding, but I don't grasp how the 'Users' ('authors, subscribers and authorised users') who have agreed to these Ts & Cs can be responsible for the actions of the person receiving content via the link – who, given the trumpeting, could be any random person who's found it via Twitter or other social channels or scholarly network where the author has posted it (see above). Someone, please correct me if I'm wrong.
But it gets even more confusing. The T's & Cs state that:
"Users may occasionally share a shareable link to a read-only version of the full text article".
We've had 'reasonable' amount of sharing, then 'small scale' use. Now we are down to "occasionally share". To me, the initial encouragement to share widely is becoming increasingly restricted. It is a long way off the "See Your Research Soar with SharedIt" headline on the SN 'media plan' for authors. Rather a case of clipped wings.
I also don't understand how the insistence on limited (reasonable/small-scale/occasional) sharing, aligns with SN's touting the large numbers of links distributed and accessed ("Over 3.25 million articles accessed in SharedIt's first year"). It really seems like SN is trying to have it both ways. 
Finally, the following clause is very odd.
"Please ensure that you have the express consent of the recipient to send the link to their email address or contact details."
This is, frankly, bizarre. I'm not aware of any author who would wish to contact a colleague to ask their consent prior to emailing them a link to an article they had written, and in which the recipient may be interested. Even if this may be intended to discourage authors from mass mailing their article to colleagues, the way in which this request is framed entails that prior consent for mailing must be asked of every potential recipient of the link.
Authors, Researchers, University members and others with subscription access beware?
If you obtain a SharedIt link, make sure that:
 1. you only use it occasionally, or reasonably, and make 'small-scale' use of it. Don't get caught out sharing the links too much;
 2. people who receive the link you share abide by the SN SharedIt Ts & Cs;
 3. you obtain the express permission of the recipient before sending the link to their email address or contact details;
or you will be in breach of the SharedIt Ts & Cs that you agreed to by using the link. This is a publisher that is very keen to control authors' use of the content they created and contributed to the publisher (I refer particularly to SN's insistence on embargos for Author Accepted Manuscripts (AAMs), requiring that authors sign a contract that they know contradicts an existing agreement the author has with their cOAlition S funder, to apply a CC BY licence to their AAM). Would this publisher really take action against authors for breaking SharedIt terms?
Conclusion
That SN "wish to enable researchers to share articles of interest" sounds wholesome and sensible. It certainly is good PR. The (then) Chief Publishing Officer of SN stated it even more strongly:
"For too long 'sharing' has been a difficult word in academic publishing. We believe we work at the behest of our authors and subscribers, and as the ability to share their work and collaborate around new research is critical to them, it needs to be critical to us as well."
[Steven Inchcoombe, Chief Publishing Officer, Springer Nature, 27 Nov 2017] 
However, scratching the surface by scrutinizing the T&Cs reveals a clear reticence to make sharing either as easy for authors or as wide as we might have been led to believe. To my mind, 'sharing' remains a difficult word in academic publishing. 'Sharing' is adopted because it sounds good, but in this 'publisher' definition of the word, it is not used in the open science sense of the word: in publisher-speak, it means limited distribution, access and re-use.
Inchcoombe adds:
"Research needs to be as discoverable, accessible, understandable, and as shareable as possible… All of this underlines our commitment to enabling new research findings to be read and used by those who support and enable research, by those who help these findings to be applied for the benefit of all, as well as the interested wider public. 
While SN heralds the wide use of and accesses via SharedIt, the Ts and Cs offer a different perspective. Plus, despite a commitment to enabling research findings to be read and used, the links provide read-only access. Clearly, permissions only partially match the fine words.
The cOAlition S Rights Retention Strategy (RRS) is designed to address exactly the problem that SN describes, i.e. sharing "research articles you or your institution have subscribed to in a legitimate way, facilitating discussions and collaborations with other researchers who may not have a subscription." The difference with the RRS being that legitimacy is achieved by sufficient rights for sharing and reusing the AAM retained by the author – not reliant on restrictive permissions imposed by the publisher. SN insists on imposing embargoes, on AAMs, even when many researchers publicise they do not want them (see for example this statement).
The point I am making here is the discrepancy between the SN rhetoric on sharing and the restrictions SN attempts to impose on sharing when you closely examine the small print that authors and subscribers actually agree to via use of the links. 
SN, if you really want to demonstrate your commitment for findings to be 'read and used,' and to support authors for whom sharing work is 'critical' (Inchcoombe, 2017), then simply open up all articles or, at the very least, don't put barriers in the way of authors using copies of their own work via authors' rights retention.
cOAlition S has just issued its statement on Open Access (OA) for academic books. With this statement, cOAlitition S sets a clear direction for academic books to become OA. It recommends that "All academic books based on original research that was directly supported with funding from cOAlition S organisations should be made available open access on publication". This is great news!
The OA Books Network (OABN), steered by OAPEN, SPARC Europe, OPERAS, and ScholarLed) salutes this clear support from cOAlition S for OA to books. While OA policies for journal articles have been developing rapidly for years, progress on the OA book side has been rather slow. However, this cOAlition S statement combined with the recently launched UKRI open access policy indicates that there is great potential for things to accelerate for OA books, too.
Opportunities
Next to the clear vision for OA academic books, we welcome specific aspects of the statement and its recommendations. Firstly, it clearly acknowledges the diversity of book publishing practices, also referred to as bibliodiversity.[1] Book publishing practices differ widely across geographical regions, language areas, and disciplines.[2] Recent workshops held by the OA Books Network (OABN) highlight this most starkly, showing that policy and local publishing traditions and markets influence how OA books deal with quality assurance, metadata, transparency, open licensing and business models.
Respecting the diversity of the OA books community is essential for any OA book policy to become successful. cOAlition S responds to this by inviting the larger OA books community to get involved in the development of implementation guidelines. Linked to this, we welcome the recommendation to retain the rights to publish OA and to allow for reuse which will for example enable more translations of the scholarly work and increased access to it worldwide.
During a series of events named "A Plan S for Books: Voices from the Community" organised by the OA Books Network (OABN) for the OA books community (including authors, researchers, publishers, librarians, infrastructure providers and others), we explored many of the aspects of OA book publishing that need to be considered when developing OA book policies. The summary of these events was delivered to cOAlition S to inform the funders about aspects that authors, researchers, publishers, librarians, infrastructure providers and others deem important and would like to explore further before settling detailed implementation guidelines for aligned OA book policies. These events involved more than 400 participants and proved that the OABN is a very suitable platform for international OA book community discussions. We therefore very much welcome that the cOAlition S statement recognizes the OABN's ability to serve as an open forum for community input during the implementation process by naming it explicitly.
Furthermore, it is commendable that the statement acknowledges the position paper "Investing in Open Access Books Infrastructure"  which raises concerns about gaps in the OA book infrastructure and calls for investment both in technical infrastructure and community infrastructure, like the OABN. We therefore also applaud the statement that "cOAlition S funders should financially support Open Access of academic books", and the fact that the policy recognises that there are alternative business models evolving to enable OA book publishing. This will clearly accelerate open access to scholarly work.
The statement also highlights the OAPEN OA Books Toolkit which was launched last year containing and collecting valuable information of all aspects of OA book publishing. It is community-governed and could serve the implementation process well by hosting, structuring, and distributing descriptions, examples, use cases, and references of the many aspects of OA book policy making that the community has identified as critical aspects.
Finally, we are happy to see that cOAlition S acknowledges the need for existing technical infrastructures, like the Directory of Open Access Books. This is the world's most comprehensive directory of academic OA books providing access to more than 44,000 OA books and chapters.
Next steps
The absence of a deadline for the implementation of the cOAlition S recommendations does signal an understanding that considerable time will be needed to properly realize them although defining one might help accelerate progress further. There is still a long way to go, and we believe that this can only be done in partnership with the OA books community.
The Statement explains that the technical standards on OA books should mirror the technical requirements that cOAlition S has set for OA journals and repositories. The issue of technical requirements for OA books, and where these differ from OA journals, was discussed in some detail at one of the "Voices from the Community" sessions.[3] [4] From this discussion it was quite clear that although book publishers do pay much attention to good quality metadata and output formats, open infrastructures are needed to generate, aggregate, organize and distribute any new metadata and output formats required – in particular for the smaller and medium-sized presses. This is not a trivial task, and we look forward to discussing how infrastructures for OA books can be further developed to enable publishers to comply with these technical requirements.
We consider this new cOAlition S statement on OA books as a welcome signal that cOAlition S intends to take a collaborative approach, with the view to bringing together both funders and practitioners in fruitful discussion resulting in clear action points. This is a great opportunity to begin a process leading towards sustainable policies based on constructive discussions, engagement, and investment from the whole OA books community. We embrace this approach and are keen to help accelerate open access to academic books together with the whole research funding community and all those who practice OA book publishing, authors, researchers, publishers, libraries, infrastructure providers and others.
♦ ♦ ♦
Co-authored by: Lucy Barnes (Open Book Publishers), Eelco Ferwerda (independent), Rupert Gatti (Open Book Publishers), Agata Morka (SPARC Europe), Tom Mosterd (DOAB), Pierre Mounier (OPERAS), Vanessa Proudman (SPARC Europe), Jeroen Sondervan (Utrecht University), Niels Stern (OAPEN) and Ronald Snijder (OAPEN)
---
In March 2021, Chris Banks, Library Director at Imperial College London, wrote about the importance of a rapid shift toward full and immediate open access to research. She argued: "We're paying a lot of money to have impenetrable walls put round our content". But the walls don't just restrict access; they can also cause a great deal of confusion for any potential readers.
Recently we encountered some challenges trying to read an article potentially of interest to people involved in the Open Research space: Soderberg, C.K. et al, (2021). Initial evidence of research quality of registered reports compared with the standard publishing model. Nature Human Behaviour. 24th June 2021.
Trying to read this article uncovered some serious problems with accessibility.
Is the article open or not?
Danny Kingsley had tweeted the article, checking first that it was available (a matter of principle for her before sharing research is establishing that others can read it). Here we describe the steps Sally Rumsey then took to try and access the work.
Step 1: Try access via the mobile phone
Sally started with her mobile phone, where she was presented with the article details and rent or buy options. Not wanting to pay, she assumed that was it. There were no other options for accessing the full text other than institutional sign-on, which Sally no longer has. However, on enquiring over Twitter, Danny indicated it was freely available via "the PDF tab". But this definitely did not appear on Sally's phone interface. So she decided to check on other devices.
Step 2: It's the laptop's turn. First attempt…
The first time Sally tried to access the article on her laptop, she was presented with the same article details and rent or buy options on the mobile phone, but here there was a PDF tab. Clicking on the tab immediately opened the full-text PDF. There was no mention of any OA version or institutional affiliation – she didn't have to click on the "Access through your institution" button.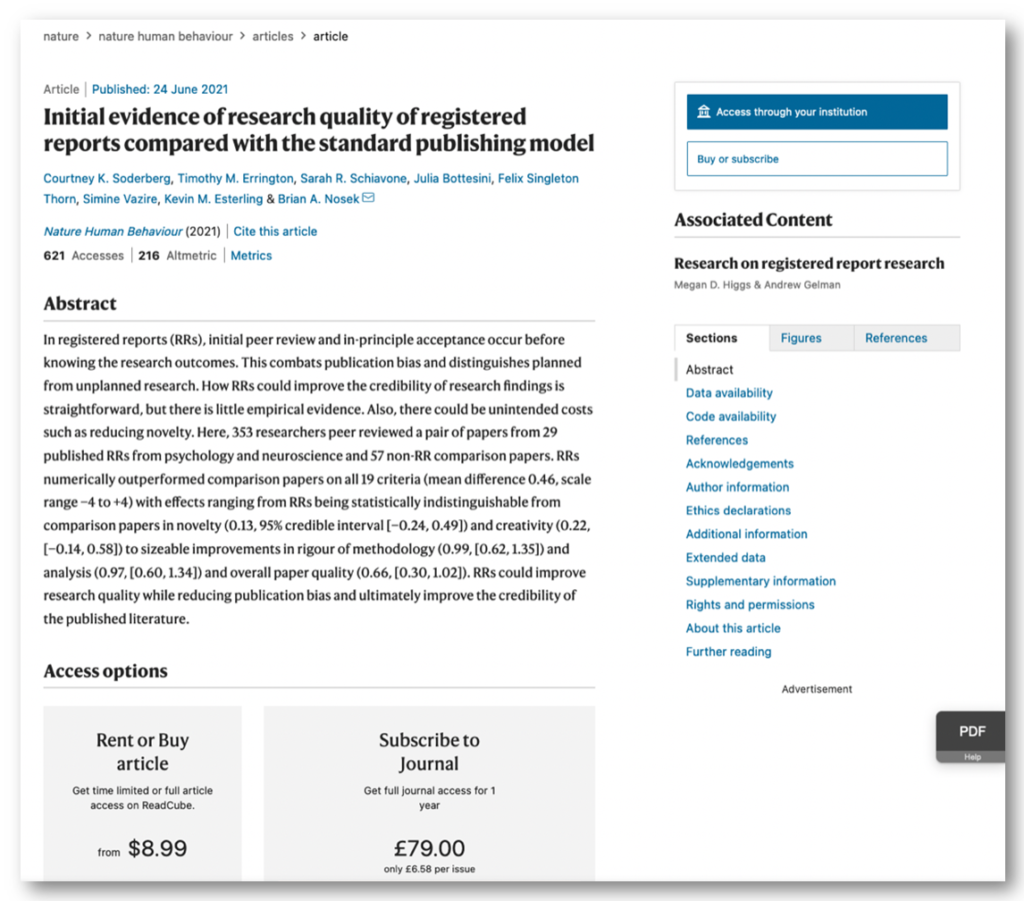 Step 3: Let's give it another try. Same laptop, second attempt…
But wait…. When Sally clicked on the same link, on the same laptop for a second time, there was no need for a PDF tab because she was taken immediately to the full text. Apparently, this is because she has "full access to this article via …the University of Oxford". This was highly perplexing given Sally is no longer a member of that University and has not had access to any resources with that affiliation for 18 months. We surmise that a cookie Nature (nature.com) previously installed on this browser "remembers" the affiliation and automatically authenticates.
Step 4: Maybe try a different laptop?
Sally then checked on a different laptop, where the experience matched her mobile phone. There was only the opportunity to pay to access or sign in with an institutional log-in. The PDF tab was not offered.
Sally located the article in the journal's "Explore content – Research articles" page. On this page, articles that are Open Access (OA) are labelled as such. The article of interest here – the Soderberg article – is not labelled OA despite Sally having access (sometimes) via the PDF tab, and the Unpaywall "unlocked" symbol appearing for Danny together with the CORE Discovery symbol for Sally – both of which confusingly direct back to the current page.

Danny's view: Unpaywall + PDF tab

Sally's view: CORE Discovery, Unpaywall – no PDF tab
A second example
Another example of a similar situation with "variable" access is described in this Tweet thread. Sally checked her access to the paper in question (Banks, G. et al (2019). Answers to 18 Questions About Open Science Practices. Journal of Business and Psychology. 34, pp 257–270) on both phone and laptop: access to the individual article via the journal home page was barred requiring payment or institutional authentication. 
However, using a link pointing directly to the PDF, (note that in the URL the word "article" is replaced by "content") the version of record of the paper was fully accessible with no authentication required on both devices. This is not the only article in this issue that displays this anomaly. The direct PDF link was also picked up by both Unpaywall and CORE Discovery apps.
It is perhaps generous to merely describe these inconsistencies of access as "confusing".
There are other related scenarios where papers were supposed to be OA (and presumably paid to be made open) but were published behind a paywall, and also where library staff have discovered that articles included in their institutional OA deal have not been made open access on publication.
Gatekeeping costs time and money
In many ways, the specific details of this situation are irrelevant. What does matter is the important points it raises:
From the baffling experiences described above, one concludes that not only is the assortment of access options confusing for readers but that major publishers are challenged to engineer and control access and authentication as they intended. Such examples validate the reasons why hybrid OA journals are problematic.
There is a significant effort associated with gatekeeping and preventing potential readers from accessing content, when research should be disseminated and read as widely as possible. This represents an increased cost in the production of publications – a cost which is ultimately borne by the subscriber or individual reader. 
There is considerable evidence that open access articles are more read than non Open access articles. Indeed, even SpringerNature, the publisher of the article example above, states that "Open approaches accelerate the progress of science…. OA is immediately accessible and highly discoverable… Previous research shows the OA advantage for researchers: OA articles are cited on average 1.6 times more than non-OA articles, downloaded 4 times more often and attract 2.5 times more attention, as measured by news and policy mentions".
Wouldn't it be better if the money, time and energy invested by publishers in attempting to build a complex variety of access barriers were directed towards providing a consistent approach to access? Then the money, time and energy spent by researchers and libraries in paying for and attempting to access content, via confused and confusing interfaces, could be better spent on research. If authentication and access control are so challenging, and we all, including publishers, agree that Open Access is beneficial, then we need to abandon these types of attempts at gatekeeping, and instead focus on making all research publications easily openly accessible.
The OA Diamond Journals Study Report is a fantastic resource for anybody interested in open Access, and particularly for researchers and scholarly societies scrambling for solutions to the significant concerns arising in relation to implementing Open Access on a large scale. I have been involved in countless such discussions over the last two decades. Researchers generally agree on the advantages and importance of making their work as widely accessible as possible. At the same time, they are concerned with the implications for, e.g., scholarly societies overseeing journals whose income often depends on subscription-based agreements with commercial or academic publishers. Many researchers are not in a position to cover author processing charges and may therefore be shut out of the publishing system (and therefore of academia!). In addition, researchers worry about the authors' rights over their work, particularly in cases where research depends on data and sources protected by intellectual property regimes or sensitivity concerns, or where research is likely to be re-used out of context and in ways that authors would strongly disapprove of. Finally, long-standing journals with a rich history and reputation for quality risk disappearing without the support of professional publishers and related income streams. Here I am thinking for instance of the journal I myself edit, History and Philosophy of the Life Sciences, a long-standing journal in my field whose survival and successful expansion towards welcoming scholars from around the world was secured through a partnership with Springer after years of uncertainty and problems.
Plan S certainly offers a great set of incentives at political and institutional levels, which has successfully shaken the publishing landscape over the last three years. However, its tolerance – some would say, approval – of hefty Author Processing Charges and/or transformative agreements between (typically rich) institutions and publishers has proved vastly unpopular with many researchers, and particularly those with the least power and financial resources to pay costs associated with publishing. Particularly affected are early career researchers, those based in low-resourced institutions or working as independent scholars, and those working in fields that are not typically supported by external funding – such as the humanities, arts and qualitative social sciences. These researchers rightly fear being excluded from the publishing system or being severely limited in their choice of outlets, which has obvious repercussions on the visibility and recognition garnered by their work – and, as a consequence, on their opportunities for interacting with their peers and improving their work through high-level scrutiny and discussions. Being able to publish in preprint repositories, where they exist, is clearly not a solution to such worries. Back in 2018, when Plan S launched its first consultation, I worked with other representatives of the Global Young Academy and several European National Young Academies to compile those concerns and highlight the potential for disastrous consequences for future scholarship (Opportunities and challenges for implementing Plan S: the View of Young Academies).
Perhaps the only uncontroversial statement that can be made in relation to these concerns is that there are no easy solutions, and Plan S is certainly not a satisfactory solution in and of itself. A much more controversial claim – which is not supported by most institutions yet, but is strongly backed by many researchers and clearly emerging from this report – is that there is a clear winner among the possible directions of travel for OA publishing, and that is to aim for sustainable and responsible diamond publishing (broadly characterized, in line with the report, as free for readers and authors). I believe that finding solutions for sustainable and responsible diamond publishing will solve many of the issues relating to the reputation and credit associated to publishing in specific journals, as more and more journals shift their publishing models and publishing in OA formats becomes widely affordable and thus ever more common and recognized by research institutions and funding/hiring committees.
This study is a decisive step towards making OA Diamond publishing possible on more realistic and sustainable grounds. It provides excellent empirical fodder against some common misconceptions around OA publishing: for instance, it shows that most Diamond OA journals have an international audience, they have an important role in protecting and fostering multilingual publishing, and they are typically run by volunteers who are not profiting from the proceedings. It also provides very useful insights on the problems encountered by Diamond OA journals. Many of these journals face financial fragility and lack of dependable funding, despite the fact that over 70% of Diamond journals require labor equivalent to having 1 to 2 full-time employees. The study also notes the stable increase in size and reach of such journals, with the vast majority of them going strong and yet experiencing significant scaling problems. This situation highlights the significance of adopting standardized and rationalized processes for the management, formatting and dissemination of articles at scale, rather than relying on email chains, DIY formatting and excel spreadsheets. There are also technical and staffing problems in making articles machine-readable, as well as the administrative difficulties in getting journals adequately indexed, especially for academics whose free time is already extremely limited and absorbed by the volunteering work involved in running the review process. Finally, the study notes the challenges of moving from subscription-based to open access publishing, especially in terms of finding long-term financial and logistical support.
These issues will no doubt be very familiar to anybody who has been involved in setting up and running an OA journal, particularly in the frequent cases in which such initiatives are completely bottom-up and motivated by the wish to foster the quality and visibility of a specific area of scholarship. I have myself experienced this back in 2002 when I founded the Graduate Journal for Social Sciences during my PhD. This was an enormous effort that led to the establishment of a diamond journal, but took a sizable chunk of my time and life energy – and that of dozens of other academic volunteers, most of them also graduate students – for five years and with next to no institutional support, aside from the brilliant help provided (again, on a volunteering basis) by my PhD supervisors and the other senior members of the advisory board. As the report demonstrates, thousands of other journals around the globe share similar trajectories, motivations and troubles.
An improved, empirically grounded, systematic understanding of these challenges, above and beyond anecdotal evidence, naturally leads to a better understanding of what can be done to tackle them, and the Report makes important progress in its recommendations particularly to research-performing institutions and funders. A key recommendation is to support the development of an "OA Diamond capacity center", or "OA Commons" that could serve the communities involved in diamond publishing, provide a platform to share expertise and experiences, and help those who wish to join in but have not had the opportunity, resources and technical/administrative know-how to do so. Another crucial recommendation is to boost transparency in the governance and market dedicated to OA publishing, with incentives in place for journals to preserve their content, promote open licenses, and access appropriate technical support – as well as for institutions to identify and implement diversified metrics to evaluate the quality of publishing venues.
Much more sophisticated and detailed advice, including advice to journals themselves, can be found in the report itself, and I sincerely hope that it will find very wide readership and inform new forms of support for OA publishing. I also hope that this effort will be followed by in-depth studies of the ongoing impact of such policy interventions, such as Plan S itself as well as existing cases of journals shifting to a Diamond OA format. We need more such intertwinement of robust research and policy evaluation to achieve truly transformative forms of Open Science that are fair and responsible towards all forms of scholarship, no matter where they are based, how much they cost and how popular they are with funders and policy-makers.
---
Related reading:
Reflections on the OA Diamond Journals Study
---
The recently-published OA Diamond Journals Study is something I have been looking forward to reading for a long time. Looking at the results, it's patently clear that authors should be highly commended for the remarkable efforts they made to reach out to the community, gather such valuable input and synthesize it in such a pleasantly digestible manner. Even for somebody swimming in the world of Diamond on a daily basis, this resource contains much to learn from.
My greatest regret is that this study was not commissioned years earlier, at the very beginning of the implementation of Plan S, whose long-neglected Principle 3 explicitly called for support for Open Access infrastructures where necessary. The need for support for Diamond initiatives, which is a prominent conclusion of the study, has actually been manifestly clear for a very long time, so it's good to finally see at least some formalized statement of that fact.
The first part of the study is an impressive document covering the crucial themes of: journals Landscape, Compliance with accepted standards, Dynamics, and Sustainability. The main findings reflect the wide variety of journals, their relative success at achieving compliance, their "mix of scientific strengths and operational challenges", and their (over-)reliance on the goodwill of academics to provide volunteer work in the face of sustainability challenges. The study is and will remain a very informative read and provides an accurate and lasting snapshot of the current situation.
The second part of the study is a separate document in which specific recommendations are made. Their list contains 20 items split in 5 categories: Technical support, Compliance, Capacity building, Effectiveness and Sustainability.
The first two categories (Technical support (R1.1-3) and Compliance (R2.1-5)) very concretely identify effective actions which can be directly initiated. I find their conclusions and recommendations very valuable, and certainly, hope that they can be rapidly implemented.
The third category (Capacity building (R3.1-3)) starts by proposing the formation of an OA Diamond Capacity Centre, which would form a kind of hub to "help grow, strengthen, innovate and save costs" for the sector. I admire the concreteness of the suggestions and would certainly be keen to share my own expertise and experiences (and benefit from that of others) within such a setup. Recommendation R3.3 (which perhaps should have been ordered as R3.2) calls for an "international symposium" and "workshops" to prepare the creation of this Centre, explicit mention being made of numerous key players. Little to mention here except: why wait so long? Once again, I think that this should have been done years ago, and find it unfortunate that such things seem to be condemned to moving so slowly.
Going back to Recommendation R3.2, this calls for an "organized marketplace" for OA Diamond. When I first read this headline, I thought "Bingo!" because I was hoping that this would call for a "marketplace" (unfortunate word in a community-driven, not-for-profit context) where OA Diamond providers could "market" their services and gather "clients". Instead, the recommendation only calls for helping "OA Diamond journals find fair, reliable and high-quality service providers" for sub-services in need of outsourcing. Fine, the recommendation does not have the ambition of the one I was really looking for, but its clear focus and sharp definition make it a "no-brainer": straight on the to-do list, please.
We now move to the fourth category "Increase effectiveness". Here, my reaction to the document took a tangent.
Without wanting to be negative, I'm not sure what to make of the recommendations R4.1 to 4.6. I find them simply too vague to offer much hope of seeing them lead to concrete action. In my heart, I of course agree with much of what they say and call for, but in the same way, I agree that we should cure cancer and clean up the environment. The question is not whether we want to do all of this, but rather how we should set about doing so, and these recommendations do not provide a clear enough roadmap, nor offer concrete steps forward.
I would here like to expand on this theme, because I think it is a reflection of a significant vulnerability permeating the OA movement.
The OA movement has been active for two solid decades now, and the very fact that we are still at the stage we are at with publishing naturally brings forth questions on the (lack of) effectiveness of the measures which have been taken up to now. Putting on the hat of a neutral observer (as far as I am able to do so in this context, which can be contested), it seems to me that the corporate publishing sector has been systematically and consistently outmanoeuvring and outsmarting the academic sector (yearly financial reports of big corporate players, including future predicted income, provide much evidence for this). The recent acceleration of the pace of signing huge (gargantuan!) agreements with legacy publishers shows that hyperinflated APCs are winning the race. Current top players have it all lined up: they will milk APCs as far and long as they can (as it looks now: perpetually), and to safeguard their future are simply reorienting towards data management and internal information/evaluation systems to perpetuate their highly effective customer lock-in strategies. To watch literally hundreds of millions being committed to reinforcing established players via various forms of Agreements, while a mere 30k euros is used to perform a study on non-APC models (which as the study shows represent a very substantial fraction of the scholarly output), is really not where we need to be right now.
Putting on the hat of a neutral observer, it seems to me that the corporate publishing sector has been systematically and consistently outmanoeuvring and outsmarting the academic sector (yearly financial reports of big corporate players, including future predicted income, provide much evidence for this). The recent acceleration of the pace of signing huge (gargantuan!) agreements with legacy publishers shows that hyperinflated APCs are winning the race.

The lack of available money for all things Diamond indeed transpires throughout the study. So why is there so little money available for that? My answer might just surprise you by its simplicity. There is little money available for Diamond, simply because little money is being made available for Diamond. Said otherwise: there is no properly functioning, large-scale, established funding stream for Diamond. Current funding structures, policies, habits and reflexes at institutional level are mostly fine-tuned, tailored and optimized to serve (disappearing) subscription models and (fast-growing, though financially hemorrhagic) APC-based models from legacy publishers. Except for isolated (some would say marginal) initiatives, no proper alternative has been developed to *concretely* and *sustainably* support Diamond OA on a sufficiently broad scale to have a large impact on the industry.
Why is that?
Speaking from personal experience, if there is one miscalculation which I made when getting involved in building publishing infrastructure, it was to underestimate the resistance to moving away from the transaction-style "sending an invoice for every publication" (an accountant-friendly approach entirely appropriate for sandwiches or soft drinks), towards one of "publishing as part of the international academic infrastructure" (this being much closer in spirit to the way research is actually performed, but so difficult to implement, because goodwill is required). I was under the illusion that funding a consortial system at the community level, if it demonstrably realized order-of-magnitude scale economies, would become the self-obvious thing to do for otherwise money-smart institutions. Little did I understand the power of targeting and depleting. An invoice (even for an eye-watering amount adjusted to what the client can pay, not what the production costs are) with a clear account number and a looming deadline triggers automatic payment. A plea for sponsorship with non-obligatory contribution of a fraction of the actual costs, in contrast, most often leads to polite dismissal (why pay if you don't have to? you'd be stupid to do that!). It really doesn't have to be that way. As the saying goes, (individual) penny wise, (community) pound foolish.
And this finally brings me to the fifth category of the recommendations, "Sustain and invest in the future".
Lots of valuable stuff in there (even traces of the "funding by authorship ratio" which an initiative close to my heart is attempting to implement). Mention is made of greatly promising initiatives like my own university's recently-initiated Diamond OA Fund which I wholeheartedly applaud. One other initiative, any mention of which is somewhat surprisingly omitted from the study, is the French Fonds National pour la Science Ouverte (FNSO) which is a larger national-scale, project-based funding scheme. Surely, generalizing the deployment of such schemes is something which should urgently happen?
If you are going to read only one section of the study's recommendations, let it be this fifth section. A path to a better future is outlined there. Still, I think the recommendations could have been bolder and more concrete. First of all, I wish section 5 had been entitled "Growth and sustainability" instead of just "Sustainability".
Going further, what I would have loved to see would have been something like: Establish, with immediate effect, an operations granting scheme for Diamond journals.
With the words "with immediate effect", I mean *now*; not after more deliberations and studies. Better to get started with a construction which aims in the right direction and which you can tweak, than to remain frozen into inaction because you fear not getting things right at the first attempt. By "operations granting scheme", I mean a simple setup (with hassle-free rather than overly bureaucratic calls, evaluation and reporting protocols) which offers concrete guaranteed minimal support (money!) for the coming years based on current levels of activity, ideally with a growth margin factored in. This would address one of the crippling features inherent to anything Diamond OA, which is the nigh impossibility of funding (and thus implementing) any growth strategy. As experience shows, any business idea with a promise can go to a bank and get a loan, or float and suddenly be worth dozens of billions while having not yet realized anything. Not so for Diamond: even after years of operation and recognition by academic peers, there is still no way to finance perfectly implementable growth strategies, because there is no guarantee that concrete accomplishments will be recognized and rewarded by continued funding. Currently, the only growth model for Diamond is a suicidal one, in which one must take steps which carry the risk of short-term bankruptcy at the first hurdle, all the while witnessing multiple-orders-of-magnitude higher money streams propping up competing (and arguably much less efficient) legacy systems. Establishing such a Diamond operational granting scheme would provide critically-needed confidence to Diamond initiatives, which would then empower them to truly scale up and have an impact, instead of letting the potential continue to go to waste through mere hesitation.
Currently, the only growth model for Diamond is a suicidal one, in which one must take steps which carry the risk of short-term bankruptcy at the first hurdle, all the while witnessing multiple-orders-of-magnitude higher money streams propping up competing (and arguably much less efficient) legacy systems.

The chance to change the publishing business is a once-in-a-generation opportunity. At this time, funders and academic institutions face the choice of perpetuating overpaying for a service which is very much *not* rocket science for the mere benefit of administrative simplicity (invoice → pay, next invoice → pay), or of pro-actively supporting (as paying clients) an infrastructure-level Diamond solution to the academic publishing problem. When (rather: if ever) non-APC models finally get the attention they deserve, as thing are currently going, the ship will already have sailed, money pumps will have been rebuilt into money pipelines (flowing to the same old havens), the infrastructure will be congealed again for 20 years and the opportunity for a better, cheaper alternative will have passed.
♦ ♦ ♦
I thus urge the higher powers to carefully read between the lines of the study's recommendations, put their boldness goggles on and view full implementation of the measures in this study as a starting point only. It is high time to take concrete, immediate steps to make the most out of the current opportunities-in-waiting.
---
Related reading:
Reflections on the OA Diamond Journals Study
Protecting High-Quality Scholarship through Fair Open Access
---
Diamond. The term is made to do a lot of work. Used in open-access publishing circles to refer to modes in which neither the author nor the reader pays, it implies rarity. It denotes scarcity. It signifies refinement. It seems, if the marketing of De Beers is anything to go by, to be the ultimate expression of love. Forever. A girl's best friend.
There are many reasons why we should value diamond OA. For one, it avoids the cost-concentrating effects of APCs that I have detailed elsewhere.[1] It also frees scholars from the market pressures of having to "sell" their high-profile research, as Peter Suber has pointed out.[2] Diamond OA does not exclude authorship on the basis of where you were born or the prestige of your university. Diamond OA admits readers from every continent, regardless of their library budgets. Diamonds, it seems, are worth mining.
Diamond, however, is also a category error. While "gold" and "green" open access refer to conditions of availability – at the publisher and in a repository respectively – diamond denotes the financial conditions under which a publisher operates. Hence, while the term is meant to connote a supreme condition in which infrastructure exists transparently without financial demands from authors or readers, it also helps to cement the false certainty, erroneously held by many researchers, that "gold" open access means article processing charges (APCs).
Nonetheless, the recent cOAlition S-commissioned report into diamond open access is revealing. Diamond is not rare. "There are", the report's authors note, "almost certainly at least 17,000, but likely up to 29,000, OA diamond journals", a large number of which, like the proverbial iceberg, sit "below the surface" of discoverability indexes such as DOAJ.
Yet the category error to which I earlier gestured runs deep. At one point, the report notes "the dominance of the OA diamond model in Latin America […] Eastern Europe and the Middle East" and calls these models less "commercial". I remain concerned at this separation of diamond OA to a "Balkanized" realm of unprofessionalism – and anti-commercialism – defined in opposition to the sleek commercial players. It is perfectly possible to run high-quality diamond models that have a commercial underpinning; it just requires some lateral thinking and goodwill. We must, in my view, resist this further equation of "diamond" with "botched DIY" or anti-commercialism. It is possible to do high-quality diamond OA that runs on a business model with underpinning commercial support.
It is perfectly possible to run high-quality diamond models that have a commercial underpinning; it just requires some lateral thinking and goodwill. We must, in my view, resist this further equation of "diamond" with "botched DIY" or anti-commercialism.

Indeed, I do not agree with everything in this report. At one point, for instance, it is suggested that "the apparent preference for OA diamond as opposed to APC based models in HSS need not be a direct consequence of the HSS field as such, but could also be more indirectly related via another explaining variable such as journal size". I find this somewhat perplexing. It seems to me that the clear explanatory variable is, although perhaps not a direct consequence of the field, nonetheless a direct consequence of the funding of the HSS spaces. Namely: a lack of project funding makes it incredibly difficult to find APCs at the right place in the system. When work is funded systemically through time – or even just researcher's own spare time – adding on the £3k APC to your own personal expenditure is simply not viable. The "dry funding climate", or even perhaps desert, as Suber called it in the introduction to my book on OA and the humanities, seems to me a far more likely explanation for diamond in the humanities.[3]
There are also some challenges with the cOAlition S data. I should note, for reasons of conflict of interest, that my diamond publisher, the Open Library of Humanities (OLH), submitted to the diamond survey. Yet we weren't always sure of the answers. In terms of "proportion of authors from the same institution" or "same country" as the journal? Readership stats and their global placement? We had to take an informed guess. It certainly, I am afraid to say, was not a rigorously scrutinised dataset.
Why not? One of the core problems to which the cOAlition S report gestures is the difficult funding situation for these titles. At OLH we implemented a low-cost business model for our 28 titles. We provide good value for money. But how much spare capacity do we have to respond to surveys like this? Very little. We run close to the wire in order to save libraries' money. And this speaks to the project's findings, which clearly highlight the financially fragile nature of this vast archipelago of scholarly titles. How can it be that so much of our research publication infrastructure is so wrongfully underfunded and reliant on volunteer labour while the likes of Elsevier make a 37% profit margin on billions of dollars revenue?
This is why, in some cases, diamond is a more apt metaphor than we might like. Real-world diamond mining is full of ethical pitfalls. The environmental damage has been extensive, but exploitation of workers through near-slave child labour in this field, in the service of global profit, is intolerable. Given the extensive donation of volunteer labour time in the diamond OA space – as signalled in the report – we should, I think, take pause (although I believe, also, that such a comparison potentially trivialises child labour in real diamond mining, which is not my intention).
The anarchic historical development of devolved scholarly communications is also a narrative within which diamond OA sits well. People see a need. They get off their backsides and put it into action. A new journal is born. This is certainly how I got started. But it has also come with problems as scholcomms has become more and more specialized – and more and more digitized.
Of particular concern is the lack of digital preservation at many of these titles – and, also, the number of journals issuing (Crossref) DOIs without any preservation, in contradiction to the contractual terms of the registration authorities. As the report authors note, "about 3,000 journals using DOIs actually reported they do not satisfy the criteria CrossRef has for journals to issue DOIs". Initiatives such as PKP's LOCKSS Preservation Network are significant steps in this regard. But, really, it would not cost much for a few prominent funders to establish a permanent online digital preservation network that could store our diamond scholarship, forever. Sci-Hub, the illegal trove of scientific papers gathered by Alexandra Elbakyan, runs to 60TB or so. A few NAS boxes running LOCKSS would cost just a few tens of thousands of pounds, with perhaps an overseeing manager appointed to maintain it. When "the large majority of survey journals have no archiving policies", this feels like low-hanging fruit and an easy intervention.
The report comes with a large number of recommendations that are doubtless helpful. But I return to a familiar point throughout this report and that boils down to one fundamental tension. I believe that the best system of scholarly communications would be one in which authors could publish openly solely on the quality of their work (as judged by many peers) and readers did not have to pay: diamond. Yet funders and their policies favour sub-dividing into units of publication: books and articles (and will only fund the outputs from their own funded projects). This is the core issue at the heart of funding scholcomms today. We need, instead, an infrastructure: one that is continuously funded and that underlies our research publication cultures. At the same time, the demand for accountability and transparency across separate organisations pulls us back, consistently, towards per-unit breakdowns that mean that, when the funding stops, the lights go out.
I believe that the best system of scholarly communications would be one in which authors could publish openly solely on the quality of their work (as judged by many peers) and readers did not have to pay: diamond.

There are some challenges. The temptation is for funders to step in and to create an architecture within which diamond OA journals could find themselves a new home. A standardised infrastructure. On the other hand, this very move seems antithetical to the spirit of devolution in which diamond OA journals are created. That is, the very act of standardising and centralising is the opposite of what most – or, at least, many – diamond OA journals seem to want.
I believe we are at a crossroads. We will either, now, succumb to APCs and the research publication ecosystem will become even more stratified than it has been to date, along the lines of those-with APCs vs those without. Or we could embrace a revolution. Most diamond OA journals represent such a revolution in microcosm. Somebody decided that the existing system wasn't good enough and did something to change it in founding their journal. If we could redirect resources to such systems, away from the profiteers, while supporting their infrastructure, we would do a lot more good for the world than we ever did by propping up Informa's shareholders.
We will either, now, succumb to APCs and the research publication ecosystem will become even more stratified than it has been to date, along the lines of those-with APCs vs those without. Or we could embrace a revolution. Most diamond OA journals represent such a revolution in microcosm.

If university presses and other mission-driven publishers could embrace such an architecture, promising standards-driven open access that was free to all, could we not configure our economics around that, rather than configuring our scholarly communications around the economics?
---
Related reading:
Reflections on the OA Diamond Journals Study
Protecting High-Quality Scholarship through Fair Open Access
---